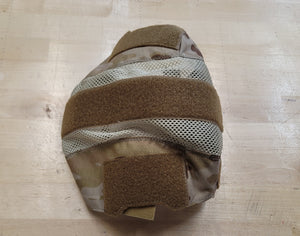 OVERSTOCK/SHIPS ASAP- A&A Tactical, LLC Helmet Cover for Team Wendy LTP 3.0 Rails in Multicam Arid w/ Tan Mesh and Coyote Brown Loop
Regular price $108.00 $85.00 Sale
A&A Tactical, LLC Helmet Cover for Team Wendy LTP 3.0 Rails in Multicam Arid w/ Tan Mesh and Coyote Brown Loop. 
Can fit size 1 and 2 LTPs. For Carbon, it will work only for Sizes 1 and 2 made BEFORE May of 2019. This cover will only work for Carbon Size 1 helmets made after May of 2019. 
This is an overrun or order cancelation that is already made and stocked and ships immediately. It is brand new, functions fine, and is covered by our lifetime warranty. 
Please see the original helmet cover listing for specs, features, or other variants. Please note that lead times apply to any modifications or other variants not found in the "Ready Ship" section.